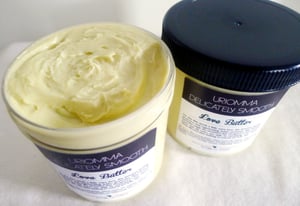 $

14.00
LOVE BUTTER is a delicately smooth, fast absorbing, nourishing mix of whipped Shea, Cocoa, Aloe Butters and premium Hemp Seed Oil. Specifically for skin that needs a little extra love, this luxurious healing, protective and regenerating butter promotes skin elasticity and helps repair dry stretched skin.
Organic Unrefined Shea Butter is high in healing fraction and when used over time will assist in the fading of old scars.
Raw Cocoa Butter is high in antioxidants which protect against skin degradation, decreases skin roughness and scaling, and forms a thin barrier on the skin that seals in moisture while still allowing the skin to easily breathe.
Hemp Seed Oil has long been recognized as one of the most versatile plant oils due to its high content of essential fatty acids, which are essential in skin rejuvination and contribute to its high healing properties. Hemp seed oil is high in linoleic and linolenic acids, which are key anti-inflammatory agents. Hemp seed oil will melt into your epidermis to heal skin lesions, balance dry skin, and fight skin inflammations. Raw Cocoa Butter, Organic Shea Butter, Aloe Butter and Hemp Seed Oil is combined to quickly nourishes and soothe the skin.
Helpful in fading stretch marks and old scars, use daily by massaging onto slightly damp affected skin after bathing to nourish itchy skin.
Ingredients: Raw Cocoa Butter, Wheat Germ Oil, Organic Unrefined Shea Butter, Aloe Butter, Hempseed Oil, Lemon Oil, Avocado Oil, Vitamin E Oil, Calendula Flowers, Chamomile Flowers, Lavender Flowers, Fragrance.
+ Lightly scented with our original Cocoa Truffle scent+
+Net 4 oz+
+Inspired by Africa. Handmade with love in the USA.+