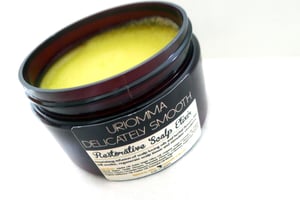 $

14.00
A marvelous elixir and pomade. Restorative Scalp Elixir is a nourishing infusion of scalp and hair loving oils and herbal flowers that will soothe, regenerate scalp tissues and stimulate scalp circulation. As a scalp elixir, the strong blend of herbs and essential oils are known to protect the scalp, prevent hair loss and encourage new hair growth.
As a hair pomade, this if for those whose hair loves oils but are looking for a lighter hair treatment. The pomade is packed with essential fatty acids to nourish scalp, and actually melts into your hair for a long lasting, non-greasy feeling! The infusion of healthy hair herbs and the nourishing blend of cocoa butter, avocado oil, joboba oil, olive oil and grapeseed oil will impart moisture and slight shine to the hair. It is beneficial for relaxed hair, straight hair, braids, and imparts shine and moisture to loose hair, and protects the scalp against dandruff, and adds luster to locks!
Please note, this product is made by hand in small batches, and as a result the coloration and consistency might appear different from batch to batch, however rest assured that the ingredients and formulations remain the same, each and every time. In addition, at room temperature, this product is slightly firm, and at any temperature above room temperature, this product will turn to oil. To return the pomade/elixir into its harden state, simply place in a cool area or within your refrigerator for 10 minutes.
To use as a scalp elixir: Rub between your fingers to soften, and apply a small amount to the scalp. It is especially beneficial for thinning areas along the hairline.
To use as a pomade: Apply a small amount to the length of the hair to seal in the moisture, apply to twists, braids, on short cuts, and use when re-twisting locks to prevent frizziness and impart long-lasting shine.
Ingredients:
+This listing is for one Net 4 oz jar+
+Inspired by Africa. Handmade with love in the USA.+