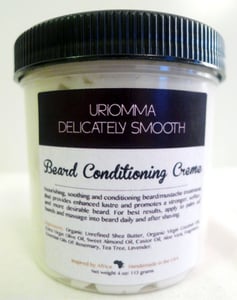 $

12.00
Love your beard but hate the rough, itchy, scratchy feeling? This nourishing, soothing and conditioning beard/mustache creme will penetrate into the hair folliculses, soothing the underlying skin, providing enhanced luster and promoting a stronger, softer and more desirable beard. Wheather it is a full beard, scruffy beard, goatee or mustache, keep your signature facial 'do lush, conditioned and soft for days.
Antisceptic tea tree oil helps keep the skin smooth and blemish free post shaving while castor oil and avocado oil nourishes the skin providing essential fatty acits and a healthy mixture of antioxidents.
To use: Apply to the palm of the hands and massage into beard daily and after shaving.
Ingredients: Organic Unrefined Shea Butter, Organic Virgin Coconut Oil, Extra Virgin Olive Oil, Organic Castor Oil, Sweet Almond Oil, Aloe Vera Gel, Essential Oils of: Tea Tree, Rosemary, Lavender, Vitamin E Oil, Fragrance.
+Lightly scented with our signature bourbon creme fragrance.+
+Net 4 oz+
+Inspired by Africa. Handmade with love in the USA.+