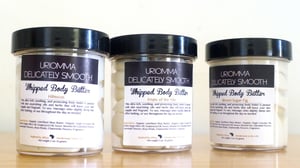 $

12.00
WHIPPED BODY BUTTER is an ultra rich, soothing and protecting body butter is packed with skin nourishing oils and herbs that will leave your skin supple and fragrant.
The base of this whipped body butter is 100% Organic Unrefined Shea Butter, known for its outstanding moisture-retaining, skin nourishing, and softening properties. Unrefined Shea Butter has been used for centuries within many African cultures to repair, renew, and protect the skin against harsh environmental elements.
The unique blend of Avocado Oil, Coconut Oil, Grapeseed Oil, and Sweet Almond Oil is high in Vitamin A, B, B1, B2, B6, D, E, and Omega 3 fatty acids. Blended together with Organic Shea Butter, the Anti-Oxidant rich oil blend will encourage cell regeneration, relieve dry skin conditions, and help maintain moisture by preventing epidermal water loss by filling in rough dry cracks with a thin layer of whipped butter.
This blend is infused with nutritive, healing, and moisturizing herbs which will deliver essential vitamins and minerals that are readily absorbed into skin providing nourishment as well as overall skin improvement. Our Whipped Body Butters are gentle enough even for sensitive skin, and is full of soothing botanicals, but as with any product that's new to you, try a small patch test first to ensure its compatibility with your skin.
To use: Massage onto slightly damp skin after bathing or use throughout the day as needed.
Ingredients: Organic Unrefined Shea Butter, Organic Virgin Coconut Oil, Avocado Oil, Grapeseed Oil, Sweet Almond Oil, Calendula Flowers, Lavender Flowers, Rose Petals, Chamomile Flowers, Fragrance.
+when ordering, please choose a scent. click the second description photo to view a description of all fragrances+
+Net 4 oz+
+Inspired by Africa. Handmade with love in the USA.+